Welcome back to Good Trouble's Accessibility Spotlight series, where we take a look at the passionate efforts being made by development studios to make gaming more viable for the millions of players with disabilities across the globe. Each article will focus on a different piece of hardware, software, or design-discipline that has made an impact in accessible game development.
On September 4th, 2018 Microsoft released the Xbox Adaptive Controller, a device recognized by many as the pioneering foray into accessible hardware design by a major 1st-party hardware manufacturer. The Xbox Adaptive Controller kickstarted Microsoft's current accessibility-focused brand identity and while it's certainly an achievement worth recognizing on its own, it's actually not the very first adaptive controller ever released. A whopping 30 years before the release of the Xbox Adaptive Controller, the world would be quietly introduced to the first commercially available adaptive controller from none other than Nintendo.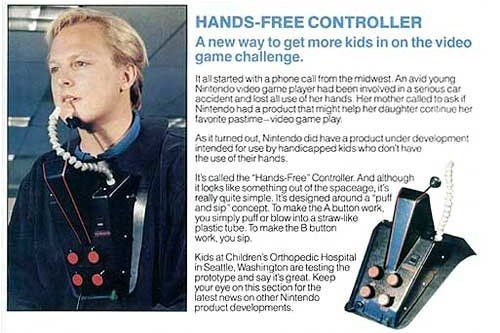 The first mention of this adaptive controller comes from the Winter 1987 issue of the Nintendo Fun Club Newsletter, a quarterly promotional leaflet that eventually evolved into the Nintendo Power magazines. One article tells the story of a phone call received by Nintendo from the mother of a gaming fan involved in a car accident. She asks if there are any plans to release an adaptive controller so that her daughter can continue enjoying gaming, to which Nintendo replies that a solution is currently in development. The product described in that article was released a year later as the "Nintendo Hands-Free Controller", a wearable device operated entirely by a user's breath control and neck/chin movements.
The control scheme that the Nintendo Hands-Free Controller had to work with is certainly less complex than the controllers we use today - 10 binary inputs versus the dozen plus buttons and analog sticks of our modern controllers - but that doesn't make the way this controller worked any less exciting. To use, the player would wear the base of the unit on their chest like a forward-facing backpack. From the base, an arm extended upward towards the player's head where they would rest their chin on into a small grove. Moving this arm by a tilt of their head, a player could input all four directions of the D-Pad, and thus navigate in-game worlds and menus. Button inputs were handled through a small drinking straw-like mouthpiece, with a player blowing into the apparatus to issue an "A" button press, and sipping the mouthpiece to register a "B" button press. The combination of these two input methods cover nearly all the controls of a standard NES controller except for "Start" and "Select". Due to the rarity and lack of archived documentation of this item, there are conflicting reports on whether or not a player could access these controls hands-free or if they would have to rely on a nearby user to access these functions, either on device itself or via a secondary controller.**

**Update 10/20/23: Thanks to Twitter user RJ_Star who pointed out that the entire NES controller is mappable on the NES Hands-Free controller!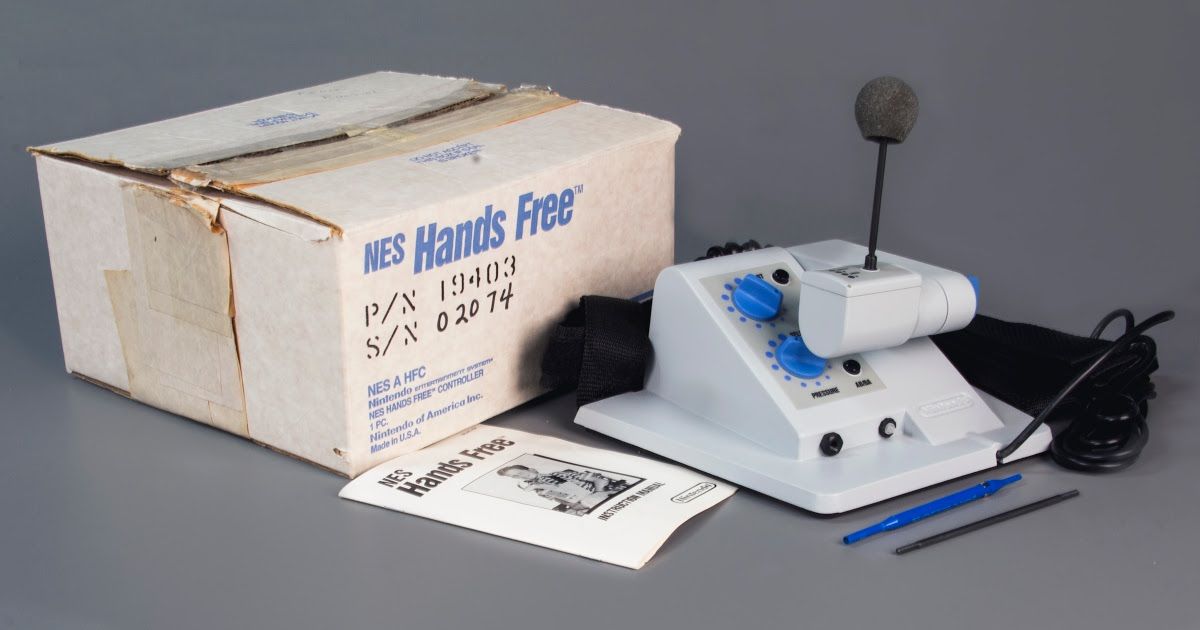 The lack of readily available information surrounding the Nintendo Hands-Free Controller is likely due to the way in which it was originally sold and distributed. Being a specialty item, the Nintendo Hands-Free Controller was only available for purchase by calling in to place an order directly with Nintendo. This means a potential customer was already expected to have an interest in video games while living with a condition that necessitated such a device, and most crucially needed the intuition to proactively call up Nintendo and specifically request the product since it was not visible on store shelves or advertised in any significant way. Because of this, the Nintendo Hands-Free Controller has become one of the rarest items in Nintendo history, with one unit currently listed on eBay with an asking price of over $2,000.
Thankfully adaptive controllers are much more mainstream these days, and with the rise of online shopping and heightened awareness efforts around gaming accessibility, the constraints that made the Nintendo Hands-Free Controller such a rarity are starting to disappear. Even still, it's amazing to think that a platform as early as the NES had an official, genuinely workable accessibility controller that brought gaming to more players across the globe.
---
Subscribe
Join the newsletter to get the latest updates.
---